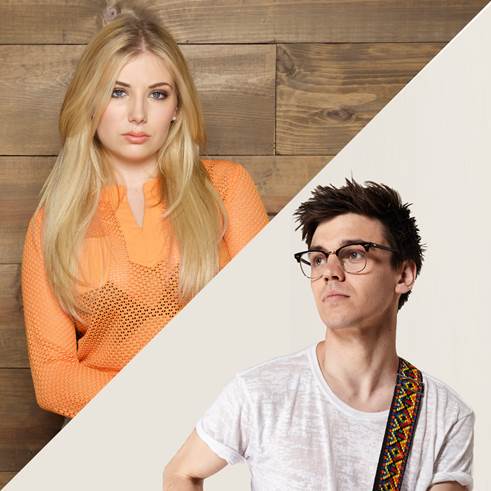 Learn more about Skyler in the following All Access interview: 
Thanks for your time today! How has 2017 been treating you? Musically, did you approach this year any differently than you did last year? 
I have had an amazing 2017 so far with the release of my new song "Carnival." I came into this year just knowing I had to start writing a bunch of songs for an EP that should be out end of year 2017. 
Where does this interview find you today? Is there music playing in the background? If so, what is it? What kind of music do you listen to when you are working? What music gets you instantly out of a bad mood? 
Right now I am sitting on the roof of my building in Hollywood, California listening to "Happier" by Ed Sheeren who is one of my favorite artists to listen to at anytime since his voice always makes me smile. 
Growing up, have you always wanted to be a musician? Can you recall your earliest musical memory? 
I grew up being on stage as my dad is a singer back in my hometown of Virginia Beach, Virginia so from a very young age I knew that was what I wanted to do as well. I remember singing "Old Time Rock n Roll" by Bob Seger on stage with my dad at only3 years old. 
If you weren't a musician today, what else could you see yourself doing? 
I think if I wasn't doing music I would be studying to be a teacher in the Peace Corps as I love shaping the minds of children. 
I always like to ask artists about where they came from and how that city or town has influenced them as an artist now. So how do you think your home of LA has affected who you are as a musician and the art that you create? Do you ever get to travel to England where you have family roots? 
I was born in Norfolk, Virginia and lived there most of my life hearing my dad singing rock music on stage and even singing it with him sometimes, listening to country music while working on a farm, and even hearing pop music from my friends in the car definitely shaped how I write and sing music now. Being in LA gives me a lot of inspiration for songs since it is a city full of many different types of people and so many different experiences. I love going to see my family and friends over in England as well, they always make me laugh so much it's definitely good to get away from everything for a little bit and have a little vacation. 
Let's talk about your newest single called "Carnival". Where did the inspiration for this track come from? 
The inspiration behind "Carnival" is from seeing cute couples holding hands or winning teddy bears for each other etc. at the local carnival I used to go to growing up. As a little kid I couldn't wait to grow up so I could experience that kind of thing and that is where the main idea of "Carnival" came from. 
What was it like working with the 2016 American Idol Finalist MacKenzie Bourg on it? How did the relationship first come to be? 
Working with MacKenzie was absolutely amazing, he has an incredible voice that fit the song perfectly. I remember getting a call from my PR company one day saying they knew the perfect person for the song and asked me if I knew who MacKenzie Bourg was. Once I told them that I did they told me I could work with him on it and after hearing his voice when he sang on American Idol I knew the song was gonna be great. 
What did it mean to you to be able to have Randy Jackson executive produce your upcoming EP and also work with producer DK too? Was it intimidating at all? 
Working with such amazing people like DK and Randy Jackson was just an insane experience that all still feels a bit like a dream, I do I have to admit I was a little intimidated at first but they are such kind hearted and welcoming people that within a few minutes I felt super comfortable. 
What's it been like staying connected on your social media pages? What do you think of it all? What's it been like for you keeping them all updated and current? 
I can't lie and say I am good when it comes to social media because I'm not. I get very busy writing and kinda get in my own little world where social media isn't a thing, I do love being able to talk to the fans though, they make me feel so proud of everything I have done and I can't ever thank them enough for their support. 
How do you think that being a musician has helped you live your best life? Can you talk about the joy that it brings you today? 
Music really is my life whether it's my best or worst it is my life, I live, breathe, and sleep music. I don't think I would survive in a world without music, it's one of the most important things to me. 
What are your plans for the rest of the summer? 
Well my summer plans mostly consist of writing, spending time with my friends at the beach, writing some more, more time at the beach, then writing again. 
Who are some of your very favorite artists or rather, what musicians have continued to inspire you and your music? 
That is a very hard question and I don't think I could really pick out just a few but I will try my best. Ed Sheeran, Miranda Lambert, Dolly Parton, Carrie Underwood, Shawn Mendes and James Arthur are some of my favorite artists that inspire me everyday. 
What musicians would you absolutely love to work with in the future? 
Shawn Mendes is someone I would love to work with along with Ed Sheeran as they both have some of the most amazing writing styles and voices. 
What do you hope is the message of your music? What do you hope people continue to take away from your songs? 
I hope people just see that I understand them whether they are going through, have been through or is going to go through the same things that I have, I hope they see that I know what it's like as well and that it is going to be ok no matter what you can make it. Being in and getting into the music industry can be really hard and there is always going to be those people that try and tell you that you can't make it. You have to remember that person isn't you so they don't know what you can or can't do with your life, so don't let them bring you down or stop doing something you love and you believe your good at because what you think about yourself is the only thing that matters. 
Is there anything else that you would like to share with our readers about yourself or your music? 
Just remember if you are ever going through something and think that no one cares, I do and my DMs are always open if anyone ever needs someone to listen, Instagram and Twitter are @skylersmusic 
0 
3 
0 
0 
3 
0 
About the Author 
Leah Brungardt (recently married) joined All Access Music Group in August 2011 and has been enjoying getting to know a new side of the music industry ever since. Having worked to promote radio stations in the past, seeing what makes a successful radio hit has been a thrill. As a lover of all genres of music, working at All Access Music Group is a perfect fit for Leah, and she loves learning about up and coming musicians as well. Most of her friends have come to rely on her for new music. Leah grew up overseas attending American international schools and attended The University of Arizona, where she earned a BA in Music Management. She roots for the Wildcats every chance she gets. Leah has been able to work at a variety of music-related jobs including several internships at small independent labels, ClearChannel Radio and Journal Broadcasting Group. She also spent time working retail at a store that specializes in vinyl, which was a lot of fun for her. Her favorite movie is Empire Records, so that makes perfect sense. 
Previous Story 
SESSIONS, LESSONS EARNED, LEARNED: MINDI ABAIR AND THE BONESHAKERS SHAKE, RATTLE WITH SOUL ON THE EASTWEST SESSIONS 
Next Story 
An Interview With the Psycheldelic Rockers SPACE4LEASE! 
Related Posts 
An Interview With The Canadian Rock Revival Folk Artist, DAVID MYLES On His Forthcoming First Fully Electric Album, 'Real Love'! 
An Interview With The Bi-Coastal Group, FAULKNER, On New Music, Working With Their Producers and More! 
An Interview With the Groove-Indie Rock Quartet, FORMER FACES! 
Search 
Recent Posts 
An Interview With The Canadian Rock Revival Folk Artist, DAVID MYLES On His Forthcoming First Fully Electric Album, 'Real Love'! 
Posted On25 Jan 2018 
An Interview With The Bi-Coastal Group, FAULKNER, On New Music, Working With Their Producers and More! 
Posted On25 Jan 2018 
An Interview With the Groove-Indie Rock Quartet, FORMER FACES! 
Posted On24 Jan 2018 
ETHAN GRUSKA Performs At LA's Bootleg Theater! 
Posted On24 Jan 2018