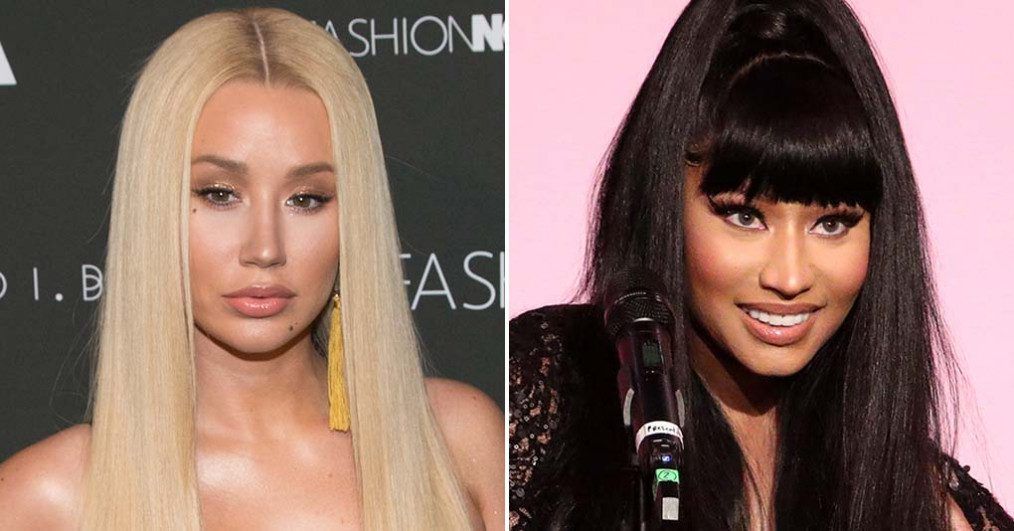 Iggy Azalea has no beef with Nicki Minaj. 
The Aussie rapper is firing back at false reports of a feud with the newly-anointed MTV Video Vanguard winner. 
On Sunday, Iggy responded to a tweet from the New York Post that cited a "history of Nicki Minaj's feuds" including Cardi B, Mariah Carey, Miley Cyrus, and Iggy.
After seeing her photo used in the headline, Iggy shut down the rumored rivalry. "Why am I in this? We've never said anything bad about one another. Y'all weird," she tweeted.
The beef rumors ignited following Nicki's comments about ghostwriters at the 2014 BET Awards, which some perceived as a shot at Iggy, who had a hit with "Fancy" at the time. 
"When you hear Nicki Minaj spit, Nicki Minaj wrote it," she said while accepting the award for Best Female Hip-Hop Artist.
Fans also unearthed an old Power 106 interview where Iggy picked Cardi B's music over Nicki. Iggy clarified that it was not a personal attack on Nicki, just a preference. 
"I can like whatever music i want lmaoooooooooo," she tweeted. "A song is a song, I'm not part of y'all weirdo lol wars."
Just this month, Iggy complimented Nicki on her No. 1 single. "Super Freaky Girl is a really well written song," she said. "Like, it's constructed to be a hit and it's BIG sounding."
Iggy is gearing up to drop her own music. She recently announced plans to release a new album after a short-lived retirement. "I'm coming back. Cry about it," she said.